Description
USED GIGABYTE RTX 2080 SUPER 8GB OC GAMING
USED GIGABYTE RTX 2080 SUPER 8GB OC GAMING
Specification
Model : GV-N208SGAMING OC-8GC
Memory size : 8GB
Ports : 1 x HDMI 2.0 / 3 x DisplayPort 1.4 / 1 x USB Type-C
Power connector : 8 Pin*1, 6 Pin*1
Cooler : Triple Fans
Card dimensions  : L=286.5 W=114.5 H=50.2 mm
Components
1 X  USED GIGABYTE RTX 2080 SUPER 8GB OC GAMING
Shipping
Shipped in 1-3 business days
Safe professional packaging
30 days Warranty
Worldwide Delivery ( UPS – DHL )
FINAL SALES,  NO REFUNDS WILL BE GRANTED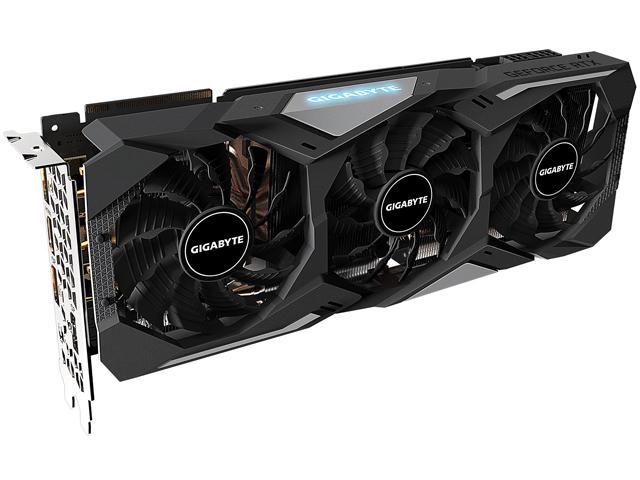 Based on the Turing architecture, the Gigabyte GeForce RTX 2080 SUPER GAMING OC Graphics Card brings the power of real-time ray tracing and AI-enhanced graphics to your games. You'll be able to play your favorite PC games at QHD 1440p resolution at high frames per second (fps), such as 120 or 144 fps, depending on the game and settings. You can also try bumping the graphics up to 4K, albeit at lower fps. The RTX 2080 SUPER is not just about high-resolution gaming. Computationally intensive programs can utilize the GPU's 3072 cores to accelerate tasks using CUDA or other APIs.
The front of the card features various video outputs, including DisplayPort 1.4, HDMI 2.0b, and USB Type-C. This card features Gigabyte's WINDFORCE 3X cooling system. The cooling system uses three 82mm fans. The airflow is split by the triangle fan edge and guided smoothly through the 3D stripe curve on the fan surface. The 3D Active Fan feature provides semi-passive cooling, which means the fans will remain off when the GPU is under a set loading or temperature for low-power gaming. It also has RGB FUSION 2.0, which has 16.7 million customizable color options and a variety of lighting effects. You can also use it to synchronize with other Gigabyte devices.
Real-Time Ray Tracing
The NVIDIA GeForce RTX platform enables real-time ray tracing of objects and environments with physically accurate shadows, reflections, refractions, and global illumination. The RTX 2080 SUPER features 8 GigaRays per second and up to 63T RTX-OPS*.
*Equivalent aggregate math operations contributed by the Turing Shaders, CUDA Cores, Tensor Cores, and RT Cores needed to render RTX graphics.
You can read more on Google.com    / About us