Description
REFURBISHED Sapphire VEGA 56 8GB
Firstly, We sell REFURBISHED SAPPHIRE AMD VEGA 56 8GB for affordable prices
Specification
Memory :  Effective Memory Clock 800 MHz / Memory Size 8GB / Memory Interface 2048-Bit / Memory Type HBM2
Interface : PCI-Express 3.0
Port : 2 x HDMI 2.0b / Multi-Monitor Support X 4 / 2 x DisplayPort 1.4
API: DirectX / DirectX 12 / OpenGL / OpenGL 4.5
Cooling : Triple Fans
Power Consumption : +/- 200W
Hashrate Ethereum : +/- 35Mh/s
Components
1 X Graphic card AMD Sapphire VEGA 56 8GB
Shipping
Shipped in 1-3 business days
Safe professional packaging
30 days Warranty
Worldwide Delivery ( UPS – DHL )
FINAL SALES,  NO REFUNDS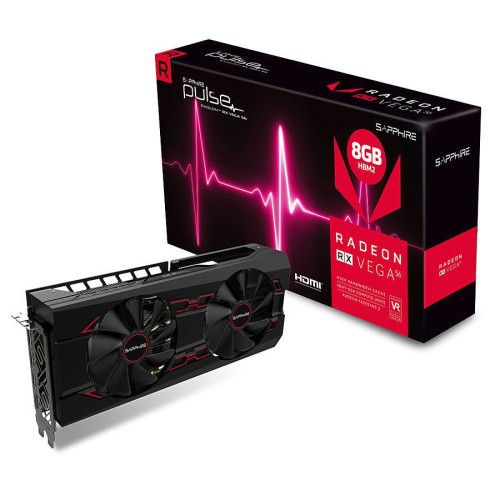 REFURBISHED SAPPHIRE AMD VEGA 56 8GB
Sapphire Features:
Dual-X Cooling
Long Life Dual Ball Bearing Fan
Back Plate
Quick Connect system
Precision fan control
Robust VRM Cooling
Intelligent Fan Control III
Fuse protection
Dual UEFI
AMD Radeon RX Vega: A graphics card for extreme gamers!
Above all, the Sapphire Radeon RX Vega 56 Pulse 8G graphics card is a powerful gaming graphics card. Similarly, It is designed to enhance the latest games, it excels in the field of Virtual Reality. State-of-the-art Radeon FreeSync 2, VSR and AMD LiquidVR technologies will allow you to experience splendid games, without jerks, with perfect images and optimal fluidity. On the technical side, the feat is made possible by 3,584 stream processors, a new 2048-bit memory interface and the latest generation HBM2 VRAM. However, The AMD Radeon RX Vega 56 graphics card aims to propel you into an immersive gaming universe. And thanks to Radeon utilities, you literally control your card, you control your hardware to obtain amazing results!
POWERED BY VEGA
Also, The Radeon Vega Series features the 2nd generation of High Bandwidth Memory and many engine improvements to provide top-class gaming performance. Again, On top of the future-proof hardware features, Radeon Software brings in powerful tools and optimizations: Radeon Chill technology, ReLive gameplay recording & streaming or AMD Link monitoring app.
DEFY ESTABLISHED CONVENTIONS
However, Don't just follow, take the lead! Choose Radeon RX Vega graphics cards and Radeon FreeSync technology. Simarlarly, Radeon RX Vega graphics cards target gamers who want exceptional performance at the right price. Likewise,  For gamers who want flexibility without compromise.
Further, Take back control with an intuitive interface and improved overclocking (depending on the model). Subsequently, Experience the exceptional performance of asynchronous shaders, DirectX 12, Vulkan and FreeSync, AMD's open technology, and enjoy remarkable fluidity and high frame rates without screen tearing or lag time.
In conclusion, You can read more on Google.com    / About us